You are here
Carolyne Larrington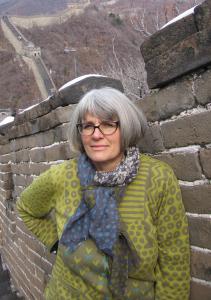 Academic Position:
Professor of Medieval European Literature
Research Interests:
Old Norse literature, Arthurian literature, emotion in medieval European literature, the re-mediation of medieval material in the modern period
Carolyne Larrington teaches medieval English literature at St John's College, Oxford. She is the author of Winter is Coming: the Medieval World of Game of Thrones (Bloomsbury, 2015) and her new book on the show, All Men Must Die is forthcoming from Bloomsbury later this year.
Recent Publications
No recent publications to show.
#
Title
Description
Contributor
1
A Conversation With R. F. Kuang

Carolyne Larrington and Caroline Batten interview Rebecca F. Kuang, award-winning fantasy author...

Carolyne Larrington, Caroline Batten, R. F. Kuang
2
An Interview with Elizabeth Knox, author of 'The Absolute Book'

Carolyne Larrington interviews critically-acclaimed fantasy author Elizabeth Knox about The...

Carolyne Larrington, Elizabeth Knox
3
Maria Dahvana Headley on 'The Mere Wife' and 'Beowulf'

Author Maria Dahvana Headley reads from her 2018 novel 'The Mere Wife', is interviewed by Prof....

Carolyne Larrington, Maria Dahvana Headley, David Clark
4
Series Two Episode One: Introducing the Modern Fairies Project

Carolyne Larrington and Fay Hield introduce the artists and outcomes of the Modern Fairies...

Carolyne Larrington, Fay Hield
5
Series Two Episode Two: Fairy Time and Space

Carolyne Larrington and Fay Hield explore the ways in which the project artists engaged with the...

Carolyne Larrington, Fay Hield
6
Series Two Episode Three: Fairies and Children

Carolyne Larrington and Fay Hield uncover the works inspired by the strange tale of the Green...

Carolyne Larrington, Fay Hield
7
Series Two Episode Four: Fairies and the Environment

Carolyne Larrington and Fay Hield talk about a new theme that emerged in the 'Modern Fairies'...

Carolyne Larrington, Fay Hield
8
Series Two Episode Five: Fairy and Other Transformations

Carolyne Larrington and Fay Hield discuss the theme of transformation through fairy or other...

Carolyne Larrington, Fay Hield
9
Loathly Ladies

In the last podcast of the current series, Carolyne Larrington and Fay Hield discuss the figure...

Carolyne Larrington, Fay Hield, Brian McMahon
10
Fairies, Children and Changelings

Carolyne Larrington and Fay Hield talk about the strange interest that fairies take in human...

Carolyne Larrington, Fay Hield, Brian McMahon, Marry Waterson, Ben Nicholls, Barney Morse-Brown
11
Helpful Fairies

Carolyne Larrington and Fay Hield discuss how fairies and humans can co-operate and assist each...

Carolyne Larrington, Fay Hield, Brian McMahon, Lucy Farrell, Ewan McPherson
12
Fairy Wives and Fairy Lovers

Carolyne Larrington and Fay Hield talk about love and marriage between humans and fairies.

...
Carolyne Larrington, Fay Hield
13
Introducing Fairies and Fairyland

Carolyne Larrington and Fay Hield in conversation about traditional British tales about fairies...

Carolyne Larrington, Fay Hield, Brian McMahon
14
Wolves and Winter: Old Norse Myths and Children's Literature

Dr Carolyne Larrington, Supernumerary Fellow and Tutor in English, St John's College, gives...

Carolyne Larrington